Invest in Mega Trends to Make Big Money On the Stock Market
(This post was updated: August 1st, 2019.)
"Do you outperform the market?" a friend asked me recently.
"Yes, my stocks are trouncing the market, more than doubling it so far," I told him.
My friend is a hotshot consultant. He works at a major biotech company. He has a six-figure income, drives a Mercedes-Benz and goes on vacation to fancy resorts in the Caribbean. And the performance of his investments is terrible.
His problem is typical of what I hear from lots of the readers of my paid service, Profits Unlimited.
My readers write me regularly saying that they've done better with the recommendations in Profits Unlimited than what they've been getting from their pricey money managers.
And there's a good reason for this. It's Profits Unlimited's single-minded focus on a kind of investing that generates great returns.
You see, Profits Unlimited has a laser focus on just one thing — mega trends.
A mega trends are macro economic forces that steadily develop and forever impact all facets of our daily lives in business, at home and culturally. The internet was a mega trend, it influenced every facet of our existed and has changed us forever. And it's still changing us.
A mega trend has the power to drive massive, enormous, huge bull markets for the stocks that are directly involved.
The very best stocks in a mega trend can deliver gains of thousands of percent over the time frame of the bull market it generates.
For example, the early '90s saw the Internet mega trend play out in spectacular fashion. The leader of this mega trend, Cisco, went up by an astonishing 47,297% in that bull market.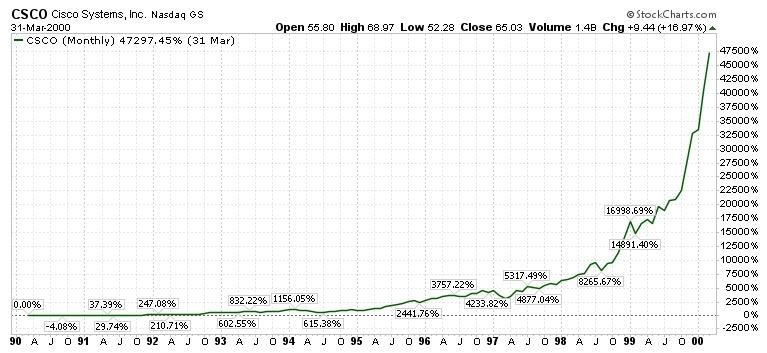 During the baby boomer mega trend, which spanned the mid-80s through the mid-90s, you had winners such as Home Depot, which went up by an incredible 17,747%.
Today we have two similar mega trends playing out in stock markets: the Internet of Things and the millennial generation. Profits Unlimited is focused on these two mega trends right now.
And it's why the equal-weighted Profits Unlimited portfolio is up by 33.5% as of March 31 compared to 14.8% for the S&P 500.
In fact, one stock that I told readers about, Mobileye (NYSE: MBLY), gave them a gain of 30% in three weeks when Intel, the computer chip giant, bought the company. So far, I've told readers about 15 stocks, of which 12 are up and just three are down.
Please don't think I'm telling you all of this to brag. My point is show you the power of investing in mega trends … which can deliver incredible, life-changing gains to you.
As you can understand, my readers are absolutely thrilled to be making big money by buying the stocks I've been telling them about in Profits Unlimited. There are no pricey money managers to pay either. Even the most expensive subscription to Profits Unlimited costs less than a cheap cup of coffee at about $0.35 per day. You get the insights of a stock guru while maintaining complete control of your own portfolio and without paying incredible fees.
Now, the thing is … both of the mega trends that I focus on in Profits Unlimited are in their early innings. And as the gains from Cisco and Home Depot, the winners from previous mega trends, show … that means even bigger gains are ahead. And I'm certain that in the coming months and years, we're going to have winners that will be as big as those winners.
The Common Mega Trends to Invent In & The Outliers 
When you're told to invest in mega trends, you're likely to hear healthcare, infrastructure, and AI.
The world's population is getting older and living longer, so healthcare revolutions will dominate the market. Particularly, precision medicine stocks which I have spoken about at great length before.
Infrastructure is going to be vital to support the 8.5 billion people inhabiting our planet by 2025.
Yes I believe you should invest in mega trends like these, but not all trends are created equal. As I have mentioned before, the Internet of Things (IoT) is going to be a game changer.
If you're the kind of person who wants big winners from investing in mega trends, then you should join Profits Unlimited so you can get in on this kind of investing today.
Regards,


Paul Mampilly
Editor, Profits Unlimited
I've been investing for more than 25 years. I started my career on Wall Street in 1991 as an assistant portfolio manager at Bankers Trust. I quickly advanced to prominent positions at Deutsche Bank and ING, managing multimillion-dollar accounts. In 2006, the owners of a $6 billion firm named Kinetics Asset Management recruited me to manage their hedge fund.